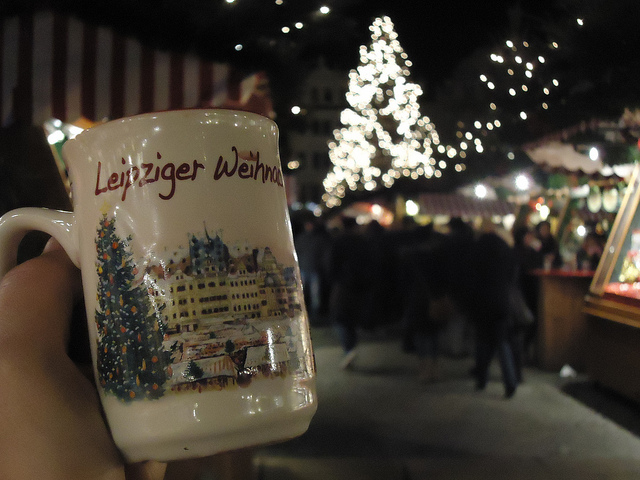 I wish I could tell you there was a really rock solid reason why we ended up at the Leipzig Christmas market, but that just wouldn't be true, and the internet is not the place to spread misinformation.
The truth is, we were deciding between going to the Leipzig Christmas market and Dresden's since they are both two of the most historic in Germany and both looked really pretty online. When it came down to choosing though, we just, um, sorta liked the sound of Leipzig's name more than Dresden.
It was simple as that.
We have theorized that Dresden's name starting out similarly to the word "dreary" may have had a subliminal affect on our decision making, but we can't say for sure. Don't feel too sorry for Dresden though, because according to their official tourism website, Dresden is a beautiful town rich in culture in which tourists are welcomed with open arms and always have a great time. Plus, I am sure we will go to their Christmas market soon.
So, how was the Leipzig Christmas market? In a word: perfect.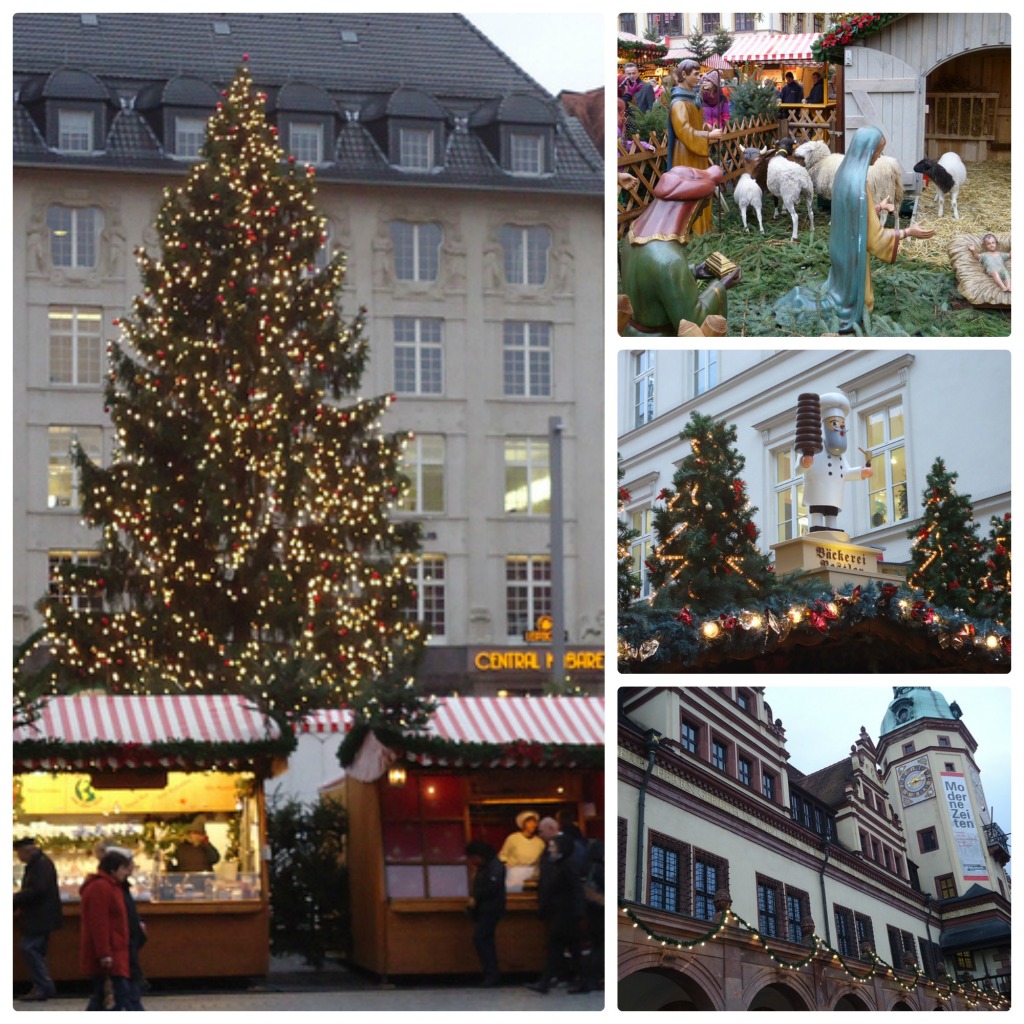 From the moment we stepped off the train after our quick trip from Berlin (it's only about an hour or so) and saw the way the station was decked out for Christmas, we know it was going to be a fun and festive time. We spent the afternoon walking around getting our bearings, and by that I mean scouting out which food, drink, and seasonal sweet treat stands and stalls we wanted to hit up later that night. This is always a smart move because after you start sipping on gluhwein, things have a tendency to all start looking the same.
First impressions can mean a ton, and our first impressions of the Leipzig Christmas market were really, really  good ones.
Leipzig really ticked all the boxes as far as we were concerned. It was the perfect size, was located in a beautiful town square featuring a majestic Christmas tree and real live manger scene, and wasn't too crowded and as a result  just had a real authentic feel to it. We headed to the hotel, checked in, and then came back out in the evening to get the yuletide spirit going.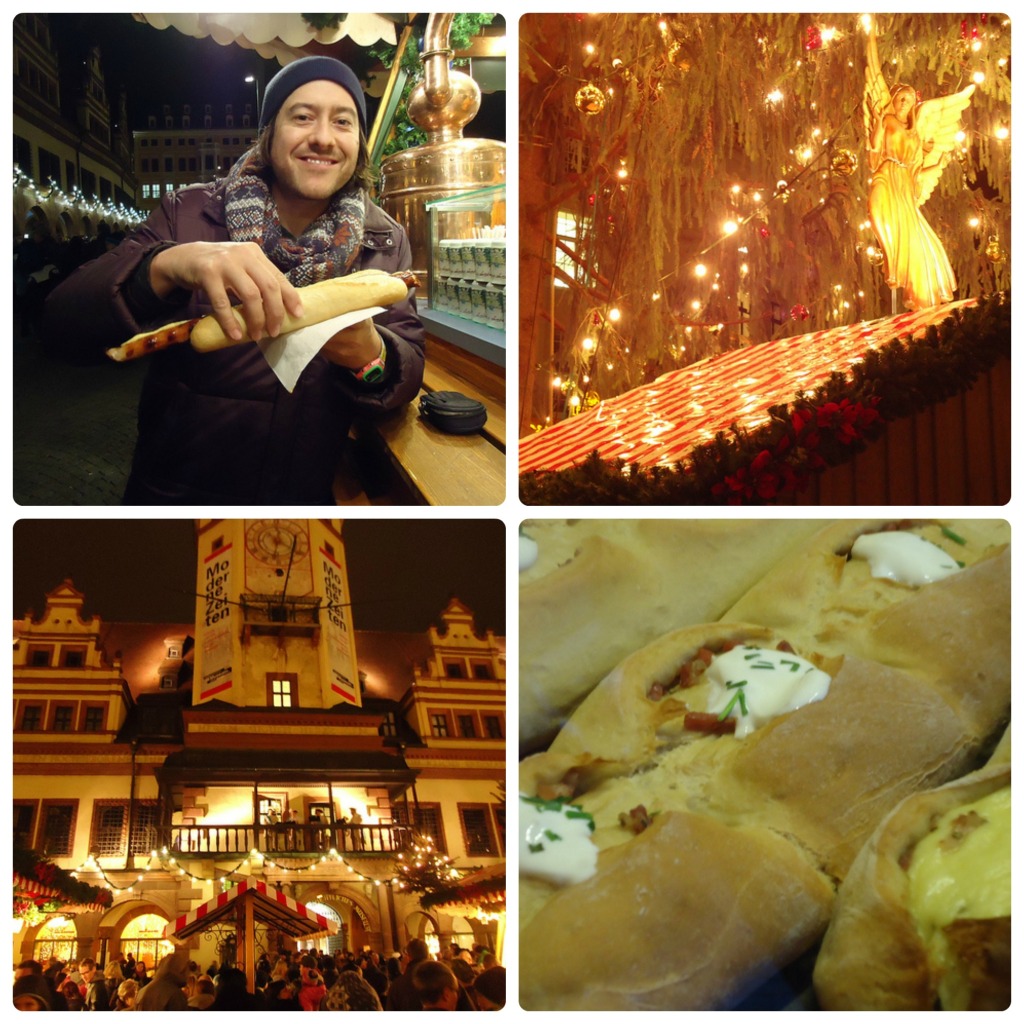 After spending four nights in Berlin where we had to typically spend around 45 minutes traversing the public transportation to get our hands on a mug of gluhwein, it was fantastic to be able to just walk 10 minutes from the hotel and be surrounded by Christmas cheer. We spent our evening at the Leipzig Christmas market wandering around between the main market mentioned above and the Nordic and Medieval themed markets located nearby. We zeroed in on the stalls we previewed earlier snacking on all kinds of goodies like bratwurst, these little bread roll thingys with sour cream and bacon called handbrots, and Lebkuchen, which is a German Christmas treat kind of like gingerbread.
Leipzig even had guys who were nice enough to dress up in period costumes and play Christmas music from the balcony of the town hall. And that was probably the highlight of the night for me, well that and the footlong Bratwurst I took down.
The Leipzig Christmas market is never the first market that comes to mind when people think of German Christmas markets, but I totally recommend checking it out, you definitely won't regret it.
Know Before You Go:
I totally recommend stay by the train station, it's only a 10 minute walk to the markets and it makes for an easy travel day when you arrive or leave.
Here is the official website for the Leipzig Christmas market if you're looking for dates, times, and all that good stuff.