Since I'm always talking about how much I love Oktoberfest (and casually mentioning that I've been there a few times), I often get e-mails from readers asking me for Oktoberfest advice.
I figured it would be cool to respond to the most common questions that I get here in one post.
So, if you are getting ready to go for the very first time or had so many beers in previous visits that you don't remember anything, these Oktoberfest tips are for you.
When is Oktoberfest? There are no set Oktoberfest dates. Like Mardi Gras and Easter, the dates for Oktoberfest change every year. In 2020, it's from September 19th to October 4th. Most years, it spans 16 days from the third Saturday in September through the first Sunday in October.
The main thing to remember is that Oktoberfest is mostly in September not October and it includes three weekends. Speaking of those weekends …
What are the best days to go to Oktoberfest? Not the weekends.
Going on a weekday is probably my number one bit of Oktoberfest advice. Seriously, avoid the weekends at all costs. Why? well, it is undeniable that if you go to Oktoberfest, you are going to have a fantastic time with thousands of your closest friends, but there's no need to make it millions.
The weekends at Oktoberfest are a mega-mess of masses and I recommend just staying away.
Plus, it feels good to be drinking beer at noon on a Monday or Tuesday when all your friends back home are at work. Oh yeah, If German Reunification Day (October 3rd) falls on a weekday, avoid that one too.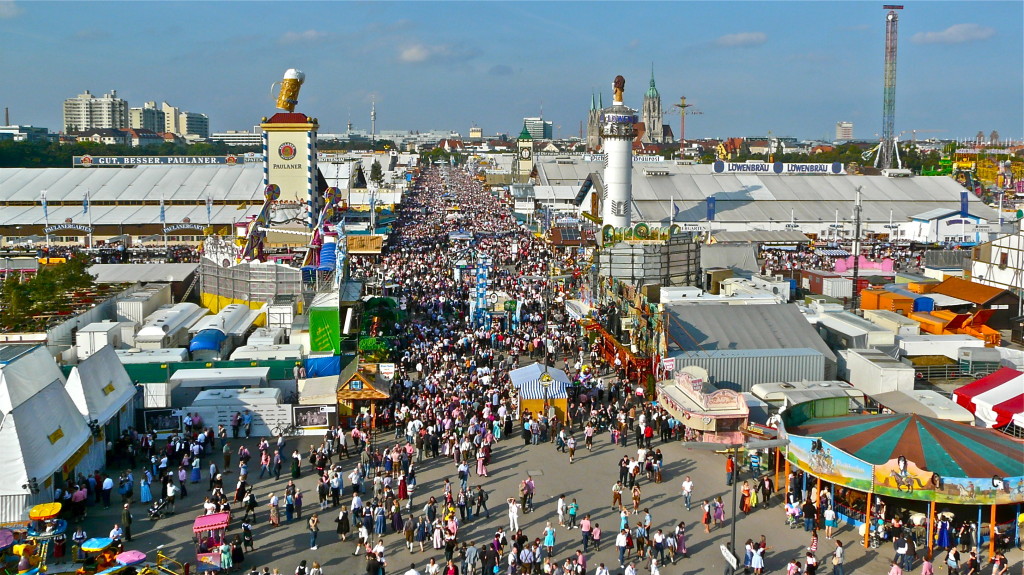 How many days should I go to Oktoberfest for? 3-4. This, of course, is a personal decision. I have long been a proponent of the "two-days-on-one-day-off" Oktoberfest model and have personally seen it work wonders. Oktoberfest is really awesome, but it is also really exhausting. Ideally, you go to Oktoberfest for two days, take one day off to sight see in Munich or get some fresh air in the nearby Bavarian Alps, then you come back for a grand finale.
Do I need a table reservation at Oktoberfest? No.
You will hear people talking about making table reservations in the run-up to your time at Oktoberfest, so feel free to ignore them, assuming you are OK with getting up early.
Yes, all you need to do to get the most out of Oktoberfest is to show up early on a weekday. And by early, I am talking 'tenish' here. If you do that, you'll be able to stroll right into the tent of your choice, sit down at the non-reserved tables (about a third of the overall amount of tables), and start having the time of your life.
If you get to the first place at 10:00, you will likely have time to bounce to a few other tents during the day, too. By 2 or 3 o'clock you are going to want to pick your favorite one to stay in the rest of the day because at that point it gets really crowded. The bands really start cranking it up around this time too, and that's when the real fun begins.
Which Oktoberfest tent is the best? Well, that is totally in the eye of the beerholder. For the most part, the 14 big tents are all pretty similar with some skewing towards tourists because of their familiar name like Hofbrau or Lowenbrau and some staying more local and traditional like Schottenhamel or Augustiner. Of course there are different bands at each tent and each tent is decorated differently, so get there early like I advised above, and do a beer-tent-crawl to find your favorite.
See Also: Best Oktoberfest Beer Tents
What kind of beer is served at Oktoberfest? Oktoberfest beer of course! There are six breweries that are allowed to brew for the the Oktoberfest, and they are Augustiner, Hacker-Pschorr, Löwenbräu, Paulaner, Spaten, and Hofbräu. When you see Oktoberfest beer in the store back home, this is what they trying to imitate. All these beers are higher than normal alcohol percentage, and are brewed in Munich only for the Oktoberfest. If you are not up for the full strength beer at ten in the morning, most tents will let you make your beer a "Radler" if you want too, which will be beer mixed with lemonade. In addition, some tents serve Weissbier (wheat beer) and there is even one tent that serves wine.
Should I hold my beer by the handle? Try not to. Always wrap your hand through the handle and around the beer, otherwise you will end up in pain the next day.
Is there anything else to do besides drink beer at Oktoberfest? Yes. Sing, dance, and ride rides. Drinking and eating may be a huge part of Oktoberfest, but singing and dancing are the next most popular things to do. There will mainly be three types of songs played by the bands at Oktoberfest: traditional Bavarian songs and chants, fun pop songs in German you won't understand, and John Denver's "Country Roads". Even if you don't know the words, sing and dance along.
Trust me, you'll be in the mood.
As far as the rides, it took until my third Oktoberfest to actually ride some, and I think it really balances out the whole experience. My personal favorite is a Funhouse-type ride with a conveyor belt that people try to stand on while it goes uphill. You can only imagine the hilarious carnage that ensues as the riders' coordination is usually not in the best form. In addition to that, there are log flumes, roller coasters, and swingy-wingy things.
How much money should I bring to Oktoberfest? Considering a beer costs about $12.50, I have to recommend about $200 a day per person to fully do it right without any worries about anything. I have done it on considerably less, but it wasn't ideal. If you are short on cash, you can always pre-game before Oktoberfest with tall cans of beer from local shops, or at least that's what I've heard.
Should I wear lederhosen or a dirndl even though I'm a tourist? Yeah, why not. From the best I can tell from my experience and research, it's fine to do so and you aren't going to offend anyone unless you buy one of the cheap costume ones from a Halloween store back home. That being said, it is a traditional outfit of the region, so wear it with pride and respect it.
Anything else I should know? Yes, this stuff:
Theresienwiese – The humongous field where the Oktoberfest is held every year. The locals were invited here to celebrate the wedding of Prince Ludwig & Therese of Saxe-Hildburghausen in 1810 and the field took on her name and the party became an annual thing.

Wies'n – The name the locals call Oktoberfest, a shortened reference to the Theresienwiese.

Maß (pronounced Mass) – Big glass stein of beer you will be drinking all day.

Prost – Cheers. This is what you will be yelling with your Maß.

Brezel – Pretzel. You will want a picture with one of these. I recommend even eating it too.

Hendl – Chicken. You will probably end up devouring a roasted one like a crazy person at some point during the day.
Alright, well enjoy the Oktoberfest guys and if you see me and Julia there this year, come over and say hi.